Main content starts here, tab to start navigating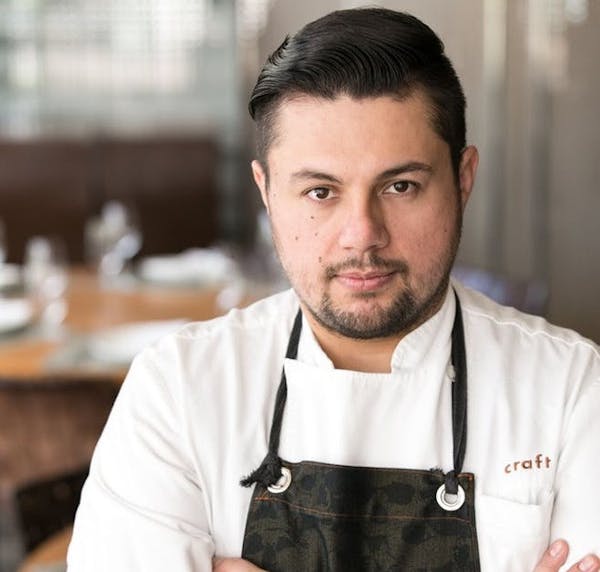 Denis Crutchfield
Chef de Cuisine
Born and raised in Stockton, California, Denis Crutchfield developed an interest in cooking while working alongside his Mexican grandmother in the kitchen. While they prepared dishes such as enchiladas and posole to enjoy with family, Denis' appreciation for the communal aspect of sharing a meal leads him to set his sights beyond the dining room table.
After graduating from high school, he enrolled in San Joaquin Delta College's culinary program and subsequently began working as a cook at a local Italian restaurant. With his focus and attention to detail, Denis rose to the position of kitchen manager, then transitioned to a front-of-house role before turning his attention back to the kitchen.
Following a stint working the line at Alder Market, Denis drove from Stockton to Los Angeles to stage at Craft where he was immediately transfixed by the restaurant's commitment to excellence and respect for the ingredient. He relocated to LA to accept a position as a line cook, quickly moving through the various stations in the kitchen as he sharpened his technical acumen and cultivated his culinary philosophy to show finesse and restraint on the plate. Within two years, Denis was promoted to the role of sous chef alongside mentor Andrew (Drew) Gavalla.
Now, as chef de cuisine, Denis continues to deepen his influence on the menu, composing dishes that showcase the beauty and simplicity of in-season ingredients, while incorporating his affinity for slow cooking.
When not at Craft, the Pasadena resident enjoys spending time with his wife and son, taking frequent family trips to Disneyland.